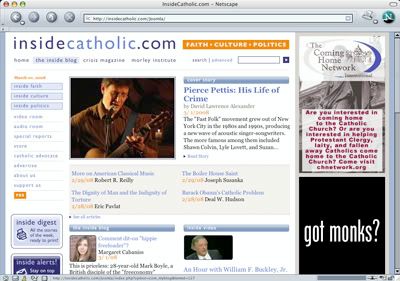 For more than two decades,
Crisis
magazine was a prominent synthesis of political conservatism and Catholic orthodoxy. It was due to the rising costs of publishing and distribution, and increased competition from other print media and the internet, that it ceased its print edition with the September 2007 issue.
Its internet edition was transformed into
InsideCatholic.com
. An innovator in Catholic periodicals, it includes a downloadable "inside digest" of stories from the previous week, for those who prefer to avoid reading long articles on a computer screen.
My work had come to the attention of editor Brian Saint-Paul, and we began discussions, the fruit of which appears today. My first article as music columnist for
InsideCatholic.com
appears on the site. "
Pierce Pettis: His Life of Crime
" is an expanded edition of
a piece of the same name which appeared in mwbh last July
. While it's still too early to tell, I am hoping to be able to contribute something, at minimum, on a monthly basis.
In the past, I've written for the
Arlington Catholic Herald
,
Catholic World Report
, and
The Saint Catherine Review
. It has been over a decade since I've done any print work. The chance to move outside the blogosphere, and do a regular column via internet or print, has been a dream of mine for quite some time. It is truly exciting to be a part of an undertaking like this one.
I hope this is where the Good Lord is leading me. But if He is, don't you worry, 'cuz
mwbh
will still be around for awhile.
[THIS JUST IN: Jay Anderson calls Pettis "the Flannery O'Connor of Singer-Songwriters" (hey, good one!), and cites an interview in
WORLD
magazine, where we learn that Pettis is Catholic. You're right, Jay, it should have been obvious.]
.