We've all heard of "Christmas in April" fundraisers and "Christmas in July" department store sales. There may be more to it than a sales pitch.
Michael E Lawrence of
The New Liturgical Movement
reflects on the recent celebration of the Nativity of St John the Baptist on the 24th of June. Essentially, his Feast was once a sort of "Summer Christmas." This might explain the rise of a "
Midsummer's Eve
" in days of yore:
"[O]n this day--not December 25--the Christmas plays were held. This is because these plays would have been performed outside, and never inside the church. December was, of course, too cold a month in which to hold these plays outdoors, so they were transferred to the nearest relevant feast in agreeable weather."
From that date forward until the winter solstice and the birth of Christ, the days grow shorter and the nights longer, just as John said of His Lord: "He must increase and I must decrease."
At the risk of putting a hex on the matter, it is possible that a Christmas wish of mine was granted last Saturday night. You see, I didn't want to be famous for anything, whether for writing this stuff or for playing music. I always said I would settle for a mild local or regional cult following, which is about as much noteriety as I can personally handle, without making a jackass of myself, or having to hire guys with double-breasted suits and no necks who could... you get the idea. Now then, my son has told his friends (mostly in their early twenties) quite a bit about his old man. How he managed to embellish these accounts is beyond me, but they have piqued a certain curiosity. Some of them read my weblog. One of them reads it every day. She's reading it right now. (Gotcha!)
Anyway, I was at the
Jammin' Java
in Vienna, Virginia last weekend, where Paul hangs out and, when he stands in one place long enough, they get him to tend bar. The headliner that night was Tom Morello, aka "The Nightwatchman," also the guitarist/singer for
Rage Against The Machine
. I decided without warning to make an appearance. Paul has a lot of really great friends, and it was just awesome to meet all of them and talk to them. I thought it would be hard to blend in, being over fifty and all. But I was never the conventional "dad" anyway. I've gotten comfortable with being my own age and being my damn self at the same time. So I don't have to be "down" with the young people, or remind them too much of their own parents. At least it seems that way.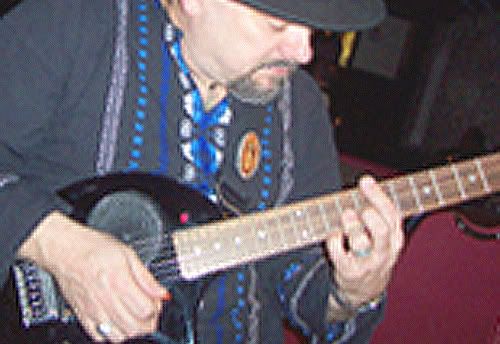 One of them asked me why I didn't update my picture on this page. I told him the first thought that came to my head -- that my beard had turned grey and I was still in denial. And so, with a Tip of the Black Hat to "the gang" at the JJ, the man behind
mwbh
has a more recent profile shot, replacing the legendary 2000 mug with a more recent one from 2004. I'm shown sitting in with a zydeco dance band outside of Baltimore, back when I could still get away with that sort of thing.
By the way, you guys, Paul used to hang with me at some of those dances. He even played the blues harp with such legends as Roy Carrier. Here he is now, puttin' on the moves.
Yeah, you right!
March 2003, Catonsville MD, by Alex Poliakoff. Used without permission or shame.
.